HOLLY KNIGHT is an accomplished songwriter, musician, and music producer. In June of 2013 this three time Grammy winner was inducted into The Songwriters Hall Of Fame, having written an incredible number of hits for some of the biggest recording artists in music. (Tina Turner, Pat Benatar, Heart, Rod Stewart, Aerosmith, Cheap Trick, Lou Graham, Patty Smyth, Kiss, and many more). She has written TV themes for the hit shows Angel (the Los Angelene Vampire) and Still Standing, and after decades of creating music, she still continues to write and produce contemporary and relevant songs  that have found their way onto South Park, The Voice and American Idol, Glee, Jimmy Fallon's Tonight Show, The Following, Necessary Roughness, Oprah Winfrey, The Mysteries Of Laura and countless others. Movie wise, her songs have appeared in Dallas Buyers Club, Anchorman ll, The Other Woman, and earlier on, Thelma and Louise, Mad Max Beyond The Thunderdome, and the list goes on.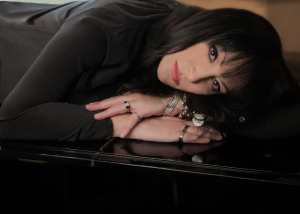 It's often said, if someone is highly creative , chances are they will find other avenues in which to express themselves.
                                                           For the last ten years, Holly has become more and more passionate about photography.
"I love history and architecture, I am completely smitten with old buildings that were built and designed by the true artisans of their time, and I love abandoned buildings. I see them as living breathing entities, witnesses to the passing of time. I feel them watching me, and I want to know who lived or worked there, the stories in and behind the walls.
The decrepit buildings are the most fascinating ones to me, when the layers fall off the walls , and you see what's beneath the surface…. In fact I love photographing just walls, and I am working on a series called 'Walls'. As a songwriter, I have always thought outside the box, all the while keeping one eye on fairly 'pop' concepts. In the music and art world, the word 'pop' has taken on a negative connotation, but in actual fact the word 'pop' is derivative of the word, 'popular'.  And what defines something as popular is determined by a collective group of minds.  
I began looking at my photos with my third eye,  thinking about how I could add my own layers., my own personal imprint. I do a good  amount  of  post work in photoshop. I was taught that it's crucial to take a great photograph first , and to shoot it with as little cropping and altering as possible..The changes I make are artistic  choices . Sometimes it's deliberate and other times I just stumble on something, sort of like songwriting.  I usually write a song on an acoustic guitar or piano in a purely organic way, and once I have the idea of it, I'll walk over to my computer and render it in Protools (record it digitally). ..so out of necessity,  I've learned to embrace technology.                      
I've developed a style of photography that I call Photosketches and Photopaintings, and I am working on several series of these. With my photopaintings, I digitally paint on small areas of the photo and blend them till it's seamless, difficult to tell what's photo and what's painting. My photosketches are my favorite. I love turning ancient parts of the photo into surrealistic looking blueprints…or dollhouses. Everything in the image starts with the real architecture and then I select parts to turn them into sketches, but I never create something that wasn't in the photo to begin with.I only alter that which was already there.
My preference is to shoot in black and white, yet there are some photos that have to be color, the color is so integral to the 'story' or geography and culture of the area.  My favorite series that I am working on right now, Graves of Classical Composers (which I began when I photographed Chopin's grave in Paris' Pere La Chaise Cemetery in the summer of 2013. All the photographs are black and white and  I place one red rose in the frame signifying life. It is my love letter, an homage to their incredible musical contributions, something that remains alive and will continue for generations to come: This, the magnificent music of Beethoven, Mozart, and so many more. I also am working on a series called 'Twos', which is a collection depicting two people and the different relationships, brothers, lovers, enemies, coworkers….it's a work in progress. Although we live on a diverse planet with thousands of different cultures, we all have many things in common, love, laughter, anger, facial expressions.
My goal with my photography, like my music, is to create something real, yet whimsical, haunting, thought provoking and beautiful. If I have even come close to that, then I am happy. Everything I do is a work in progress. I am a work in progress.
Welcome to my gallery of photography."     Holly Knight
Holly lives in Los Angeles. Currently she is putting together her first photo exhibit for 2015 and her photographic prints will be available for purchase on her site in the near future. In the meantime, if there is anything you are interested in purchasing,  please contact her. We can fill a personalized order for you on Quality Fine Art Burata paper , any size from 8×10 up to 30X24, with a beautiful white matte. We also offer framed pieces with museum quality glass, priced individually, per request. All pieces are signed and dated.
 If you would like to learn more about her as a songwriter/producer, please visit : hollyknight.com